Europe's public service media (PSM) community has wrapped up its annual two-day General Assembly hosted by EBU Members Czech TV and Czech Radio.
The two-day event brought together more than 165 senior broadcast executives in Prague and included a series of animated discussions about the challenges facing PSM. In particular, Members highlighted the need for greater cooperation to speed innovation and creativity in the face of a fundamental shift in the media industry driven not only by technology, but also by global competitors. Thought was also given to the creative potential and benefits of internal production versus external production.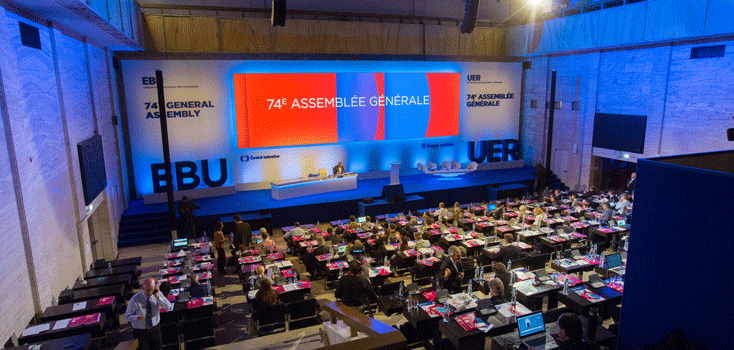 An open, transparent and secure Internet is crucial
During a session about the impact of technology on content distribution, EBU Members adopted a resolution urging European Union governments to set clear net neutrality rules for the future of the open Internet. EBU President Jean-Paul Philippot said: "PSM organizations in Europe share the view that strong net neutrality rules need to be one of the foundations of the Internet of tomorrow. Without clear and strong rules, access to online-content risks becoming confined to walled gardens rather than widely available in open spaces."
Proposed changes to Trade Secrets law
A second declaration unanimously signed by the assembly addressed the potential impact of draft EU legislation on 'Trade Secrets' to investigative journalism. Mr Philippot told the gathering that the EBU Community had reacted to some extent with 'disbelief' that EU legislation could genuinely introduce restrictions to media freedom and the right of the public to be informed. Members warned that proposed changes to European law would restrict journalists from investigating and reporting on business activities of possible public interest.
EBU creates an International Broadcasting Assembly
Delegates also determined to create an International Broadcasting Assembly, which will integrate with the Bruges Group, which was founded in 1991 in Belgium. In the past 20 years, it has expanded from its six founding broadcasters (BBC, Deutsche Welle, 3sat, RAI, RTPi and TV5) to more than 20 member stations from across Europe, including radio broadcasters and international partners. The Bruges Group as a whole aims to provide its overseas audience with reliable, high-quality news and information that promotes European culture and the values of democracy, freedom of the press and human rights, strengthening the European identity through the broadcasting industry.
Contribution of the EBU Partnership Programme acknowledged
Members of the Central and East European Group also paid tribute to the EBU Partnership Programme (EPP) for its 'valuable support and assistance, professional advisory services, trainings.' In a statement to the General Assembly, Members acknowledged the contribution the EPP had made to fledgling broadcasters, and highlighted the essential role of the spirit of solidarity of the Union – helping to boost development.